New Technologies in Plastic Pipe
Today, PVC is the second-most used plastic in the world, and part of a $20 billion-a-year industry, according to the Polymer Science Learning Center at the University of Southern Mississippi. More than half of all PVC manufactured is used in the construction business — the majority for pipes, which are recognized as a less expensive, non-corrosive alternative to metal. Strong, durable, lightweight and flexible, plastic pipe requires significantly less energy to produce, transport and install.
Plastic pipe's versatility has led to a series of innovative products, engineered for high performance and longevity, providing advantages to save time and money on any job.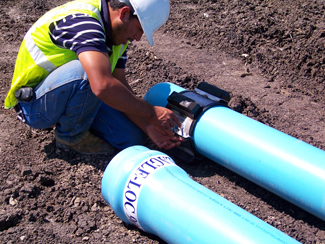 Eagle Loc 900 is PVC pipe with an internal joint restraint system. This innovative product eliminates the need for external restraints. Its internal joint restraint system and lightweight reduces installation and labor costs as much as 30 times over traditional methods. The internal joint system locks with a simple push, the superior strength of this pipe makes it the perfect choice for even the most challenging trenchless applications. Eagle Loc 900 is pipe for water sanitary sewer force mains and potable water distribution and transmission.
For more information about Eagle Loc 900, click here.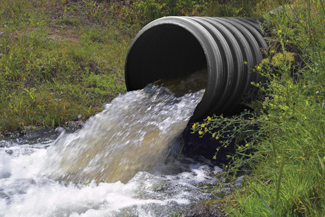 Eagle Corr PE is better engineered corrugated drainage pipe for long-term durability. Eagle Corr offers dual-gasket technology for a water tight configuration. It is made from HDPE, one of the most chemically inert plastics, and is extremely resistant to corrosion, as well as abrasion, gouging and scratching. It features dual crown corrugation for greater pipe stiffness values, and is expected to significantly exceed 100 years of design service life. This pipe is suitable for use in gravity flow drainage in DOT/capitol improvement, residential, commercial, recreational, agricultural and irrigation applications. Eagle Corr PE is available as a recycled-material product, Eagle Green PE.
For more information about Eagle Corr PE, click here.  For more information about Eagle Green PE, click here.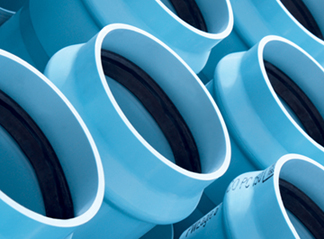 Ultra Blue PVCO is the highest-performing, most cost-effective pressure pipe for potable water and force main systems. Ultra Blue PVCO is molecularly oriented to be lighter yet stronger including, higher cyclic fatigue strength, greater impact strength and larger interior diameter than conventional PVC at half the thickness, with a larger interior diameter for improved performance. Long-term pressure tests show Ultra Blue has a hydrostatic design basis of 7,100 psi vs. 4,000 psi of conventional PVC. Its long-term hydrostatic strength exceeds the accepted high safety requirements of municipal water systems.
For more information about Ultra Blue PVCO, click here. click here.